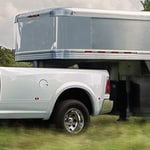 When it comes to heavy-duty pickup trucks, the automobile industry has its share of great options. The Ram 3500 just so happens to be one of the very best and for good reasons. This pickup truck has good interior comfort, and it will come in numerous trim levels. This includes the Big Horn, Tradesman, Laramie, Limited and more.
The Ram 3500 has a monstrous presence that looks iconic. There are two-door and four-door models to choose from. The truck's front grille is massive in size. Intricate details can be seen on the grille. Huge LEDs are present on both ends of the frame. These illuminating lights appear to be carved into the frame with precision. The Ram emblem is also present in multiple areas, and this pickup hosts strong body lines. Exterior paints are vast, including pearl and clear-coat finishes.
Visit our showroom to get a first-hand look of this amazing machine.