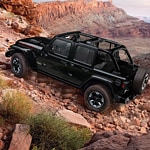 The latest Wrangler from top brand Jeep features exciting outside designs that any buyer expects to find in the most popular of compact SUVs today. These features are unlike anything that you could find in the Wrangler's competition. Find out why they make owning the Wrangler one of the best investments today.
To begin with, the newest Wrangler has a number of outside fixtures that you can take on and off at will. Its back window, for example, can be easily removed to make the back end of the cabin open to the outdoor air and sunshine.
You can also switch out the tops to the Wrangler at your discretion. It comes equipped with a soft top that is sufficient for sheltering you from the elements. However, you can switch it with the optional hardtop for more protection if desired. You can also remove the top completely to create an open cabin.